I ran into problems with Global Search. I couldn't get to the messages it finds following the hyperlink. When I attach an attachment found with global search to a new email then completely different content would be added under the same attachment name.
After reading up I concluded that "global-messages-db.sqlite" should be corrupt. I followed the step
here
,
here
and
here
to recreate global-messages-db.sqlite (deleted the index database and watch the activity windows to reindex everything).
But now I'm stuck.
After deleting "global-messages-db.sqlite" and restarting TB in off-line mode, it gets stuck on:
activity_manager_progress_hanging: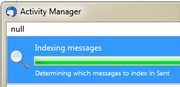 The new "global-messages-db.sqlite" size doesn't change (after 6 hours of rebuilding still no change) at 1.245.184 bytes and search doesn't work.
I'm running TB version 60.9.0 (32-bit) on a Win7 64bit platform.
I have 7 mail accounts 3 of them IMAP, and an extensive email archive and rely heavily on global search.
Does anybody know how to fix this problem?