"how likely are you to recommend mozilla firefox web browser to a friend or colleague?"
the above text
"pop-up"
appeared, outside browser-page, while reading content on a non-mozilla forum. the forum does not utilize pop-ups outside browser-page … the forum also does not sanction bs ads
(such as this is)
. is this
"alert"
part of firefox? would the alert be part of
"enable firefox health report"
… in preferences/advanced/data-choices/options?
(my

"fhr"

is enabled and

telemetry

is disabled.)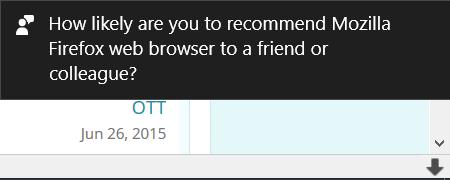 looking at the image above … notice how the frame is outside the browser-page.
my environment:
windows-10 (home) 64bit (1607-14393.1198)
firefox (53.0.3 (64-bit))
this appeared half-hour ago for the first time … didn't think to minimize web-browser to see if the pop-up was part of win-10 notorious adv-schemes. also, microsoft settings
(settings/system/notifications)
are such that mozilla is not part of the
"notifications"
league. take note, i also utilize and update several security sentries.
has anyone else noticed the above intrusion?