I installed the USHoliday.ics and I am looking for a way to remove it.
There does not seem to be a way to delete this .ics.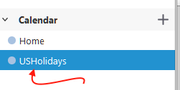 How would I remove this .ics?
I know I can probably remove the Holidays one at a time but if I do
will that remove the USHoliday under my Home calendar
I am using Thunderbird 94.0b4
Thanks in advance
If this post is in the wrong please move to correct forum.